Today I had a very frustrating Christmas shopping session in Oxford Street, nightmare is the only way to describe it and my pre-christmas cheer was severely tried. Luckily I was wearing my extremely warm faux fur jacket and Ugg boots to keep me warm. Attempting to seek some small refuge from the heaving crowds I popped into River Island and was extremely confused because I felt like I had entered Rhianna's walk in wardrobe complete with Rude Girl slogan belts, bedazzled/ leather base ball caps and cut out leather dresses like the one below.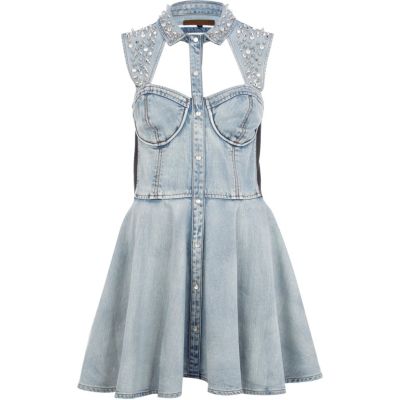 I thought this was the look awaited collaboration which people have been talking about since July but I could see anything in store talking about it. Having done a bit of googling I found out the collaboration is actually happening in Spring 2013, and that Rihanna had been seen wearing a denim hooded onesie/jumpsuit from the collection. Genius, I love it!!! I need to know prices and what time in the morning I can start queueing up to get my hands on it...
Photos from the photoshoot for the campaign have recently been released as well, and it looks like brit model Jourdan Dunn is one of three models also in the campaign (and the rest: Bambi Northwood-Blyth on the left and the right is Ataui Deng). Check out the girls posing in the image below. I can't wait, really...can't wait!!!